PRO Pump: This is a highly modified pump designed to increase lube oil and take abuse. This pump features a roller bearing a high temp front seal, machined for a bushing support on the front of the input shaft, cleaned inspected and proper tolerance gears, and our famous high load pump bushing. This bushing is a high load bushing designed to take more heat and have a higher cycle life, with a thick copper core and Babbitt overlay, this is not a factory bushing like the others out there offer. The WPT pro pump comes with two virgin Teflon sealing rings for high gear clutch life and wide needle bearing. $325.00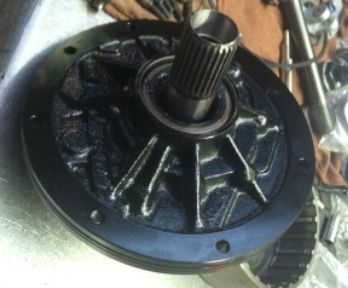 Super pump: Reid racing super pump features over sized gears for high capacity and high pressure capabilities. this pump is a brand new pump featuring ribbing for added stiffness and an additional 2 bolts to add to more clamping force of the two halves. Our version of the super pump features our famous high load pump bushing for added reliability and prevent bushing fatigue common in high pressure and high stall converter pumps. WPT version also comes with two virgin Teflon high clutch sealing rings and a wider roller bearing for increased load. This pump is available in ring style and ringless, both include a heat treated, bushed stator tube.
Ring style $565.00
Ringless $700.00
Purchase a WPT super pump and input shaft and receive a discount!