For diesel trucks we offer Billet faced converters to help when throwing the cold to your truck. When loaded down, diesel engines have high torque especially under high boost situations such as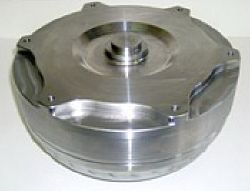 those vehicles
that have been reprogrammed,
the engine side of the torque converter will actually wrinkle or warp. The wrinkled face shortens the life of the converter clutch inside the converter and causes an out
of round condition, which in turn leads to the front of the transmission to experience accelerated wear and the flex plate on the engine to crack or break. Our billet faced torque converters are thicker, in addition to be made of upgraded material for higher tensile strength, to help in mechanical stress from the engine torque along with the thermal stress. The billet faced converters also offer reinforced studs where applicable to prevent them from snapping off.